Sparkling Wine from the Monastery Cellars
The classic method provides fresh, youthful sparkling wine
If someone is looking for a suitable location for a winery specializing in sparkling wine, then a former monastery would be right at the top of the list. And the Braunbach Winery specializing in sparkling wine in Settequerce near Bolzano is housed precisely in one of them. And because there is an obligation to tradition, the sparkling wine here is produced strictly according to the classic méthode champenoise bottle fermentation.

The history of the monastery building in Settequerce goes back over 800 years. Presented as a gift from the bishop of Bressanone to the Teutonic Order, at some point it had to be abandoned. But in order for it not to fall into disrepair, the former monastery winery was renovated and the Braunbach Winery was set up in it. Its specialty, sparkling wine, is produced strictly according to the traditional process. And that means: aging on the yeast, manual riddling, and then the removal of the yeast from the bottles, known in the industry as "degorging".

At Braunbach, they are especially proud of the classically fermented sparkling wine Braunbach Brut. "It matures for 36 months on the fine yeast and is captivating through its fine-grained perlage and its fresh, youthful, and stimulating character," explains Hans Kleon, head of the Braunbach Winery specializing in sparkling wine.

in addition to sparkling wines, the Braunbach Winery also makes white and red wines: Merlot, Lagrein, Cabernet, Chardonnay, Sauvignon, and Gewürztraminer. And Kleon also knows their secret: "The geological and microclimatic conditions of our areas of cultivation provide the basis for juicy, quaffable, but also complex wines with a strong character of the zone," he explains.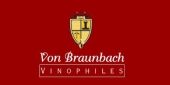 "It matures for 36 months on the fine yeast and is captivating through its fine-grained perlage and its fresh, youthful, and stimulating character."
Hans Kleon, head of the Braunbach Winery specializing in sparkling wine
Wine varieties
Lagrein
Chardonnay
Vernatsch
Sekt
Gewürztraminer
Sauvignon Blanc
Merlot
Meet our winegrowers
Character, passion and