Blue Blood – Even Twice
The Kuenburg counts work with a multitude of varieties
If Sallegg Castle in Caldaro had veins, then they would certainly be filled with blue blood. And not just because a whole series of bluish grape varieties have been planted at the estate winery. Rather because Sallegg Castle, which once belonged to Archduke Rainer of Austria, the viceroy of Lombardy, is run today by the Kuenburg counts. Noblesse oblige.

In any case, the Castel Sallegg Estate Winery brings along with it an outstanding starting position for noble wines. The grapes are grown in the vineyards of three estates, each of which provides its very own characteristics. Those from the Seehof, for instance, are on Lake Caldaro between precisely 230 to 280 meters, and the warm climate favors late-maturing and aromatic grape varieties: Merlot, Lagrein, Cabernet Sauvignon, Red Muscat, and in the white line Gewürztraminer and Yellow Muscat.

Somewhat higher up, on the other hand, at an elevation of 500 meters and above, are the Leisenhof and Preyhof. At the Leisenhof, it is primarily Sauvignon Blanc and Pinot Noir that are grown, while the specialty of the Preyhof is fruity white wines, first and foremost Pinot Grigio, Chardonnay, and Pinot Blanc.

In addition to the conditions that the grapes experience from Mother Nature, the hand of the winemaker of course plays a very decisive role with regard to the flavor and quality of the wines from Castel Sallegg. "How and where our winemaker allows the wine to ferment and age is decisive for the drinking experience in the glass," explains Count Eberhard Kuenburg.

And at the Castel Sallegg Estate Winery, "drinking experience" means the enjoyment of noble wines.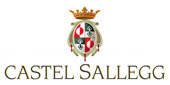 "How and where our winemaker allows the wine to ferment and age is decisive for the drinking experience in the glass."
Count Eberhard Kuenburg, head of the Castel Sallegg Estate Winery
Wine varieties
Lagrein
Blauburgunder
Rosenmuskateller
Chardonnay
Weißburgunder
Gewürztraminer
Sauvignon Blanc
Goldmuskateller
Merlot
Pinot Grigio
Cabernet Sauvignon
Monday - Friday 10am - 1pm and 3pm - 6pm
Saturday 9am - 2pm
Vincerdetail.PartnerUS
Weygandt-Metzler Importing LTD
Meet our winegrowers
Character, passion and