Art On and In the Bottle
Broad diversity from a traditional estate winery
Some 55 hectares of vineyards in three communities with an elevation difference of no less than 900 meters. The fact that Franz Haas stands for enormous diversity in wines already becomes clear with a few figures.

But let's begin with another number: seven. Franziskus Haas, who currently runs the Franz Haas Estate Winery, represents the seventh generation of wine producers in his family since his forefather Franz Haas laid the foundation for the operation in 1880. "I'm a meticulous, finicky person who is often his harshest critic," Haas says of himself.
His passion is first and foremost Pinot Noir, which has made him well known far beyond the borders of the province. "it is the great challenge of every winegrower," Haas says. But on top of that, Haas has also dedicated himself to Lagrein and Merlot, and he tinkers with cuvées from the most varied of white wine varieties.
Franziskus Haas can live out all of these passions on 55 hectares of vineyards in Egna, Montagna, and Aldino, covering a range of elevations between 240 and 1,150 meters. "This broad spectrum of locations offers a multitude of different microclimatic zones and soils," Haas explains. This multitude is reflected in the wide product line which over time has become a characteristic of Franz Haas.

As have the colorful, expressive labels that decorate the wine bottles from the Franz Haas Winery. They have been designed by internationally renowned artists and immediately catch the eye.

And what we learn from them is that art can manifest itself both on and in the bottle.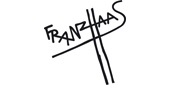 "I'm a meticulous, finicky person who is often his harshest critic."
Franziskus Haas, head of Franz Haas
Wine varieties
Lagrein
Blauburgunder
Müller Thurgau
Rosenmuskateller
Weißburgunder
Vernatsch
Sekt
Gewürztraminer
Sauvignon Blanc
Merlot
Pinot Grigio
Monday - Saturday:
9.00 - 12.00 and 13.00 - 18.00

Open also on 1st Sunday of the month
9.00 – 12.00 / 14.30 – 18.00
Visits by appointment on Wednesday, Friday and Saturday at 10.00 and 15.00 Uht on 0471 812280 or by e-mail to shop@franz-haas.it
Vincerdetail.PartnerUS
Empson USA Inc.
Meet our winegrowers
Character, passion and